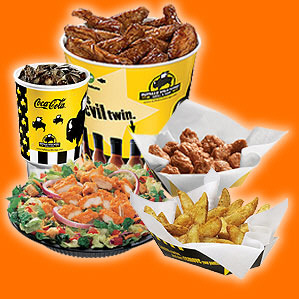 For dinner, I had boneless wings, potato thingies with cheese, and a Bud Light. We went to Buffalo Wild Wings, formerly known as BW3 or Buffalo Wild Wings & Weck,
weck being a type of sandwich bread
served in western NY state.
First, the service was the worst I've received in years. The worst, in fact, since I ate lunch at an outdoor cafe in Madrid in 2004 and all the employees disappeared for two hours the moment I decided I needed my check- not disappeared like European waiters being unobtrusive and not coming to the table until you stare them down, disappeared like they literally left. Tonight, it took fifteen minutes for someone to come to the table. Did I mention we were really hungry, and in need of a beer after sitting in the library studying for finals for ten hours? He delivered a drink a friend had ordered before we arrived, then turned and left despite our entreaties. I actually started speculating about whether it would be faster to go wait in the very long take-out line. He came back fifteen minutes later, tried to take our order, finally succeeded, and disappeared again, only reappearing to drop our food and run off. Then it took him another fifteen to deliver our check after we requested it, and another fifteen before he would come pick it up, despite walking by every five minutes and staring directly at it. Finals are looming and none of us were in very nice moods anyway, so this was not cool.
It gets worse. Namely, the food. Against my intuition, I decided to branch out and try the boneless wings over regular ones, hoping they were slightly healthier. They may have been, if only because I didn't want to eat very many. They looked like something that came frozen in bulk from Costco, rejuvenated by a swim in the deep fryer. They received only the lightest drizzle of sauce, and the waiter ran off before I could ask for a side of sauce to remedy their dryness, so I was stuck with overly crunchy nuggets of dough. They reminded me of vegetarian chicken nuggets before food scientists cared enough about meatless products to make them palatable, or maybe something you'd find in an elementary school's cafeteria. The "buffalo chips" (aka "potato thingies", because "buffalo chips" is an awkwardly cheesy name for something served at a macho sports bar)were ok, although they are always very bland. I suppose I should appreciate it when something low-sodium comes out of a restaurant kitchen, but they're potatoes! They need salt! And cheese that actually tastes like something! No on all counts.
BW3 has been suffering from more general problems lately. The increased corporate focus on "family friendliness" virtually guarantees food on the floor and screaming toddlers at certain times of the day (fortunately, this evening was not one of those times, or I really might have killed someone). They really don't seem to be focused on the food anymore, if they ever were. The last straw for me is the sheer absurdity of their new wings saucing policy. They will no longer split sauces on small orders- how hard is it to make six wings one flavor, and the other six another? It's such a minor customer service issue, and their refusal leads me to believe they just don't care about their customers or their food. Charge me extra if you must, but to outright refuse is to incite my wrath.
I can only hope Wing Stop catches on to BW3's vulnerabilities and changes their business model enough to poach BW3's customers. Wing Stop has delicious wings (try the garlic parm!), and the most perfect fries in the world, in case you wondered.